Use of Non Conventional Energy
DUAL USE SOLAR PUMP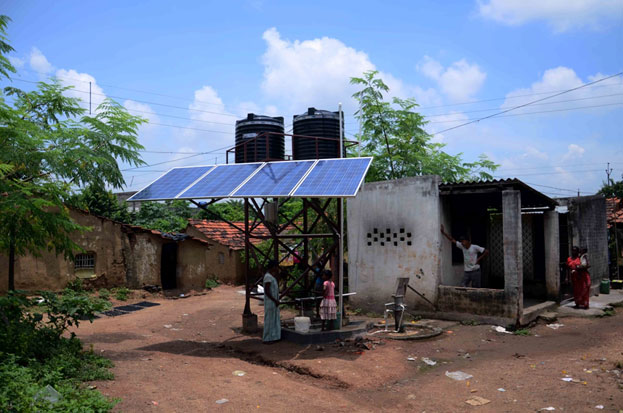 The Govt. of West Bengal in its endeavour to provide drinking water to even the most remote locations has announced the Dual Solar Pump Scheme. With assistance from the Govt. of India, installations in the 3 IAP Districts of Midnapore, Bankura and Purulia are being carried out. Under this scheme, a 1 HP DC Solar Pump is installed side-by-side with a hand-pump and connected to a on-site storage tank. The tank then supplies water via a piped network in the habitation. Water is provided to small habitations without any pre-existing piped water supply or electricity. The system which operates autonomously continues to operate with minimal maintenance and without the need for day-to-day operation.
704 sites have been identified after a detailed survey and commissioning is under process in all 3 districts.
SALIENT FEATURES OF THE SYSTEM
Solar: A 900 watt peak solar array is installed that generates electricity when exposed to sunlight. This electricity is then supplied via cable to the DC Submersible pump.
DC Pump: A specialized 1 HP DC submersible pump is installed alongside the pre-existing hand-pump.
Storage: A HDPE tank of about 5000 L (or less depending on the individual requirement of site) mounted on a pre-fabricated steel structure at a height of 3 metres.
Supply: A piped water supply system is installed. This pipeline then distributes water across the habitation which is in turn supplied through a number of stand posts installed in convenient locations.
Rain water harvesting: Roof top rainwater harvesting system is incorporated into the system when possible
ADVANTAGES OF THE SYSTEM
The Solar Dual Pump System when installed in an existing bore requires little time and expenditure. Small teams can take the components site, assemble and commission the system in a matter of days.
The Pump uses water from the underground aquifers which usually tend to be pure, clean and available throughout the year.
The system is installed while retaining the pre-existing handpump. This keeps the additional source which can act as backup while allowing for familiarity for the local inhabitants.
The Solar Pump operates entirely from the power of the Sun and thus there is no electricity cost. This also is a perennial source which is only very occasionally interrupted during extreme overcast periods.
The Solar Dual Pump operates entirely autonomously. It switches on with the first ray of the Sun and operates continuously through the day until the tank is full or in case the bore runs dry. It can then restart when needed.
The system can operate even during cloudy periods (at lower capacity).
By providing at least 5000 litres of water per day and up to 15000 litres per day through multiple standposts, it is well-suited for simultaneous use.